---
News Item: KOLOBOK for nConvers++. Original
(Category: Internet)
Posted by Aiwan
09 February 2007 - 11:01:00

In the sections for files for pagers the set KOLOBOK for nConvers++. Original has appeared. This packet of smileys is made for Miranda IM connected with nConvers++ plugin. It's compatible with codes of ICQ, QIP, R&Q and other popular codes. This set was developed and tested on nConvers++ v0.0.0.4.8. Thanks NeoJSmith for help.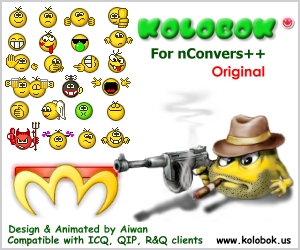 ---
This news item is from Author's emoticons Kolobok Style. Kolobok smiles
( http://www.en.kolobok.us/news.php?extend.130 )
Render time: 0.0436 sec, 0.0010 of that for queries. DB queries: 11.