Harvey Ross Ball. Biography
Aiwan, 30 September 2009 - 00:00:00
Harvey Ross Ball. Biography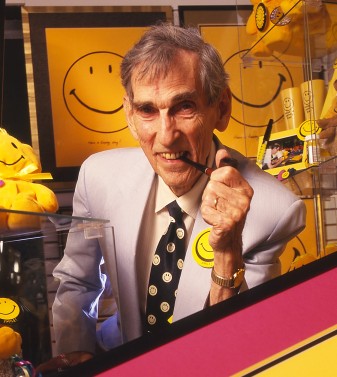 Harvey Ross Ball
(10 July 1921 – 12 April 2001) is the earliest known designer of the Smiley.
Harvey Ball was born and raised in Worcester, Massachusetts. During his time as a student at South High School, he became an apprentice to local sign painter, and later attended Worcester Art Museum School, where he studied fine arts.
Harvey Ball served 27 years in the National Guard, and was based in Asia and the Pacific during World War II. He retired as a Brigadier General in 1973 and then served six years in the Army Reserves. He retired as a full colonel in 1979. Ball was awarded the Bronze Star for heroism during the Battle of Okinawa. He was awarded the Veteran of the Year award from the Worcester Veterans Council in 1999.
After World War II, Harvey Ball worked for a local advertising firm until he started his own business, Harvey Ball Advertising, in 1959.
His design of the Smiley came about in 1963. The State Mutual Life Assurance Company of Worcester, Massachusetts (now known as Hanover Insurance) purchased Guarantee Mutual Company of Ohio. The merger resulted in low employee morale. In an attempt to solve this, Harvey Ball was employed in 1963 as a freelance artist to create a smiley face to be used on buttons, desk cards, and posters. In less than ten minutes the smiley face was complete.
The use of the smiley face was part of the company's friendship campaign whereby State Mutual handed out 100 smiley pins to employees. The aim was to get employees to smile while using the phone and doing other tasks. The buttons were highly popular, with orders in lots of 10,000. More than 50 million Smiley Face buttons were sold by 1971, and the smiley has been described as an international icon.

Ball never applied for a trademark or copyright of the smiley and earned just $45 for his work. State Mutual, similarly, did not make any money from the design. Ball's son, Charles Ball is reported to have said his father never regretted not registering the copyright. Telegram & Gazette reported Charles Ball as saying "he was not a money-driven guy, he used to say, 'Hey, I can only eat one steak at a time, drive one car at a time'".
The associated "Have a Nice Day" tag, was not part of the original design. Brothers Bernard and Murray Spain later trademarked the line combined with a smiley face in the early 1970s.
The World Smile Corporation was founded by Harvey Ball in 1999. The corporation licenses Smileys and organizes World Smile Day. World Smile Day raises money for the Harvey Ball World Smile Foundation, a non-profit charitable trust which supports children's causes. World Smile Day is held on the first Friday of October each year and is a day dedicated to "good cheer and good works". The catch phrase for the day is "Do an act of kindness - help one person smile".
Harvey Ball died on April 12, 2001, aged 79, as a result of liver failure following a short illness.
He was survived by his wife, Winifred, three sons and a daughter. He has a number of grandchildren and great-grandchildren.
The land that was owned by the Ball Family, off Granite Street in Worcester, was purchased by the City of Worcester in June 2007, with help from the Audubon Society and a $500,000 grant from the state Executive Office of Environmental Affairs' Division of Conservation Services.
This property links the Audubon's Broad Meadow Brook Sanctuary with the developing Blackstone River Bikeway. It is now known as the "Harvey Ball Conservation Area" and is home to the appropriately named "Smiley Face Trail."
Source: http://wikipedia.org
Photographer: Michael Carroll
---
this content item is from Author's emoticons Kolobok Style. Kolobok smiles
( http://www.en.kolobok.us/content_plugins/content/content.php?content.21 )