---
News Item: Smilies for IEView by ViShenk@
(Category: Internet)
Posted by Aiwan
21 February 2007 - 12:22:13

The site archive has been replenished by expanded set of smiles for Miranda IM users. Variants of the set Vishenka_Smilies_for_IEView_Dark_Skin and Vishenka_Smilies_for_IEView_Light_Skin are available for the dark and the light backgrounds. Archive contains the installation file with possibility to choose russian or english language, and description. Artworks of Aiwan, Vishenk@, snoozer, kuzya, kezayah and others are used in the set.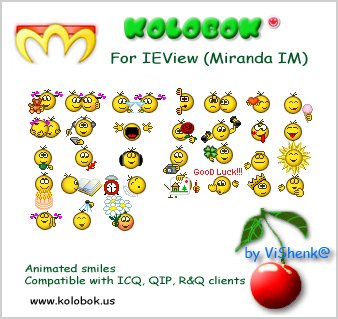 ---
This news item is from Author's emoticons Kolobok Style. Kolobok smiles
( http://www.en.kolobok.us/news.php?extend.133 )
Render time: 0.0116 sec, 0.0054 of that for queries. DB queries: 11.