---
News Item: A set of koloboks for QiP - pager
(Category: Internet)
Posted by Aiwan
13 July 2005 - 16:50:00

A new set of smiles for the new growing in strength and popularity internet pager QIP - KOLOBOK For QiP. Original appeared. This set includes two folders with animated smiles, one for the dark background, one for the light one. Smileys for the light background are a little bit changed, namely I added a bomb and a rose to the standard set, which I couldn't paint for alpha-release QIP.
To download this smiles you should change all pictures in the needed skin by you and restart the client.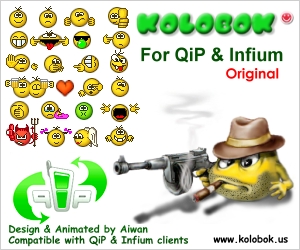 Site pager QIP.
Forum.
---
This news item is from Author's emoticons Kolobok Style. Kolobok smiles
( http://www.en.kolobok.us/news.php?extend.48 )
Render time: 0.0118 sec, 0.0058 of that for queries. DB queries: 11.