---
News Item: KOLOBOK For phpBB. Original
(Category: Internet)
Posted by Aiwan
10 September 2005 - 18:12:00

I got many letters, in which I was asked to explain, how my smileys can be installed in phpBB forums. Frankly speaking, I could hardly imagine, how it works, because I haven't dealt with such forums. But yesterday I was looking for engines for the new forum and had a look at phpBB forum. I found no at difficulties in smileys' installing, but taking into account the fact, that these forums spread free, I understood, that many administrators are unskilled and aren't too good with the settings. I decided to help them and made a small archive of light smiles for such forums. Installation direction you'll find inside the archive. Good luck!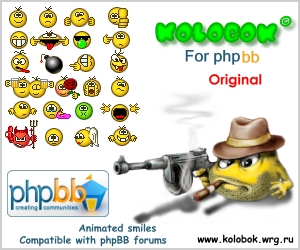 p.s. If you need smiles for dark skins, download them yourself and replace those, which are in the archive. The names of the smiles coincide.


---
This news item is from Author's emoticons Kolobok Style. Kolobok smiles
( http://www.en.kolobok.us/news.php?extend.61 )
Render time: 0.0072 sec, 0.0014 of that for queries. DB queries: 11.